A circular walk around the Old City of Bristol
The "Walled City Walk" follows the town walls of Norman Bristol. With the walls no longer visible, their route is little understood or used, and the rich architectural heritage of the Old City often goes unnoticed.
The guide explains the history of the area and its buildings and outlines those aspects of the social, religious and, above all, the mercantile life of the city that have greatly influenced the last 900 years of its development - and still set the context of today's bustling independent business community.
Enjoy your walk! Don't forget to look up above the shop fronts and enjoy the great variety of sculpture and other decorations in the Old City. The walk is just over 1km, lasting about 1–1.5 hours.
Click the images below for a larger view.
The walking guide is accompanied by a set of postcards that further highlight certain buildings and businesses.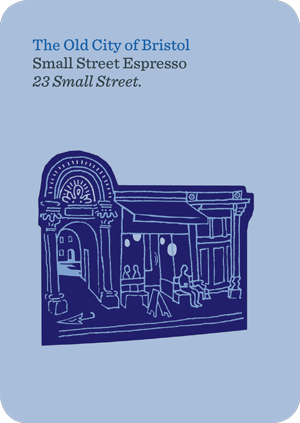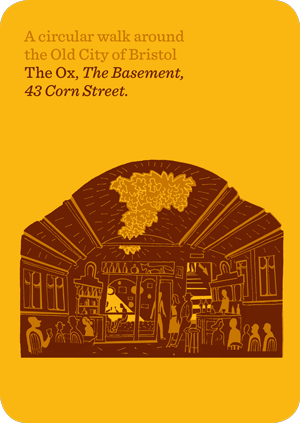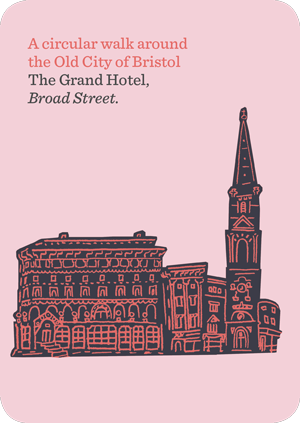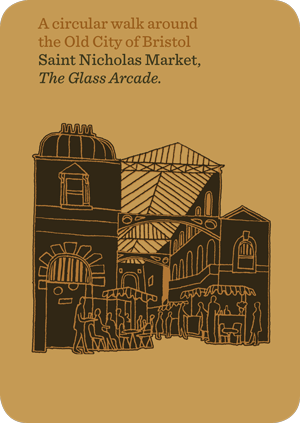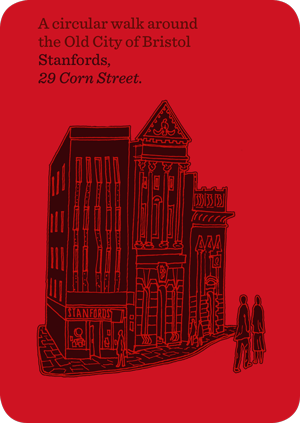 The execution of the project was carried out by a partnership of local stakeholders, each with their individual areas of expertise, using local knowledge and traditional processes. Centrespace was leading on the creative execution, Bristol Civic Society on the historic background and St Stephen's on the spiritual context. The project was funded by Bristol City Council's Active Neighbourhood Grant, supported by the University of the West of England (UWE), and coordinated by Destination Bristol.
The walking guide and postcards are available at the Tourist Information Centre on Harbourside (1 Canon's Road) and at the following locations in Old City:
Church of St John The Baptist, Broad Street
The Grand Thistle Hotel, Broad Street
Full Court Press, 59 Broad Street
St Nicholas Market, The Exchange, Corn Street
Bristol Pound, The Exchange, Corn Street
Stanfords, 29 Corn Street
Cosy Club, 31 Corn Street
The Ox, 43 Corn Street
Source Food Hall & Café, 1-3 Exchange Avenue
Small Street Espresso, 23 Small Street
Guy Fawkes Hair & Beauty, 6 St Nicholas Street
Store Next Door & Playground Coffee House, 43 & 45 St Nicholas Street
Europa Restaurant, 37-38 St Stephen's Street
The Birdcage, 28 Clare Street
The Milk Thistle, Quay Head House, Colston Avenue