All Locations
---
Address
United Kingdom
Contact Details
Tel: 0117 930 0035
Visit Website
Shop on MyHigh.St
Social Media
Twitter
Facebook
Images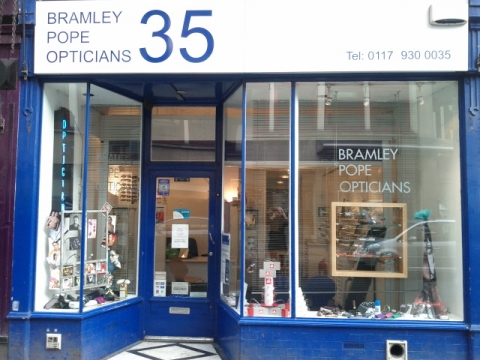 Share Location
We are a small independent dispensing opticians and we have been trading since 1997, so we must have got something right.
Our idea is to supply something that's different, a friendly atmosphere with loads of advice and help if you want, and if you can't see exactly what you want then we will get it if we can. Emphasis is placed on personal service, correctly fitted frames and accurately dispensed lenses.
We sight test across lunchtimes to suit those people in the offices nearby. We do special rates for corporate sight testing and can arrange to VDU screen test on site if preferred. We also do designer ranges and the more unusual and we'll try to suit your pocket with your choice.
We will do our utmost to sort out what you require.....and we laugh a lot too
---
Find Bramley Pope Opticians